The wait for the most powerful eCommerce platform with a 'one click' checkout has come to an end. As of September 2017, Magento released the Magento Open Source 2.2.2, which includes new tools, numerous fixes and enhancements from the dev team, as well as a number of fixes from the community around the world. In a post on the magento official blog site you can read:
'Magento is the first commerce leader to offer an 'Amazon-like' experience as a standard feature, now available in the latest release of Magento Commerce.'
This is what users have really been waiting for, a simple checkout process and an interface which provides a full report on sales, subscriptions and other valuable data collected on the store.
New Features:
1. Instant Purchase checkout. The Instant Purchase option uses previously-stored payment credentials and shipping information to bypass steps in the checkout process and go directly to order review step.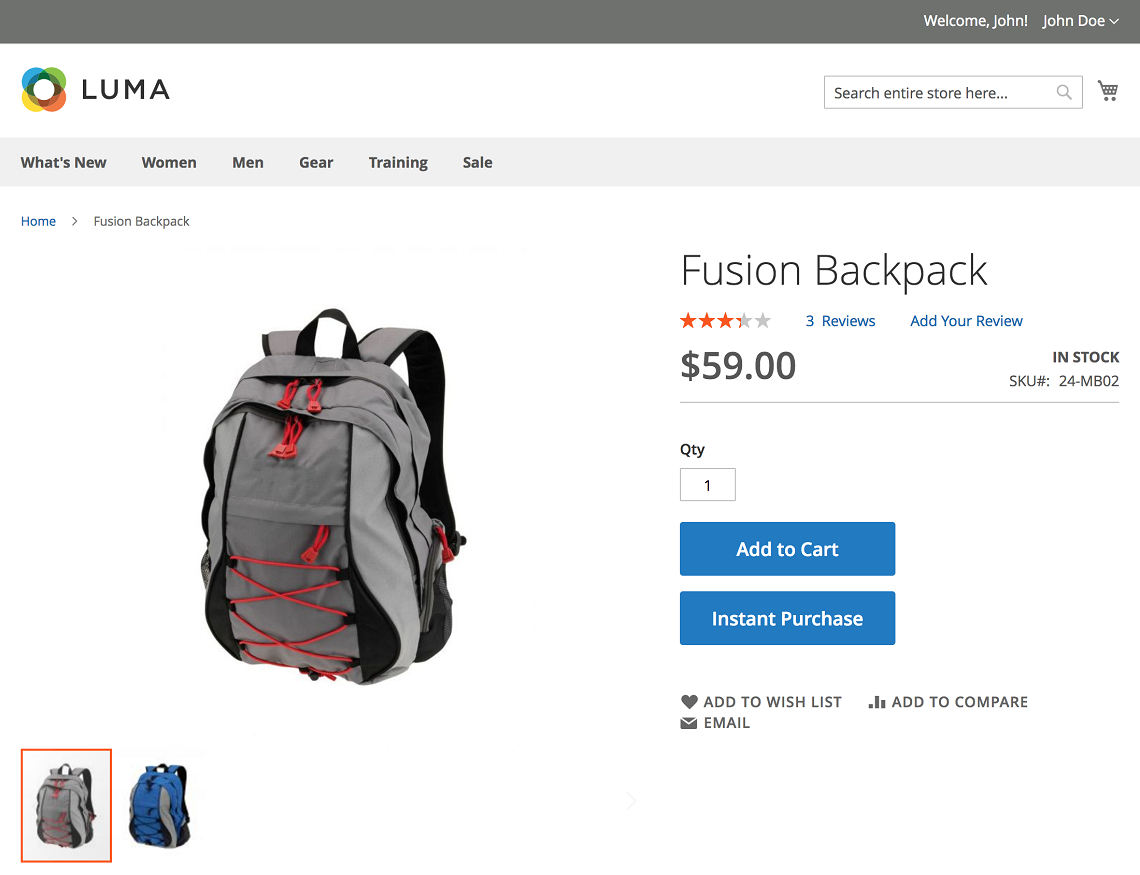 Simply put, it provides customers with a faster checkout experience by using previously-stored payment credentials and shipping information to skip checkout steps. When a customer selects the "Instant Purchase" button on a product detail page, they are immediately taken to an order confirmation page where they can place the order. There's no need to enter their address, payment information, or shipping preference, the new Magento checkout feature takes that data from your previous checkouts.
We at ElectricBot have tested the Instant Purchase feature and we found that it can shorten the amount of time it takes to finish a checkout process by upwards of 85-90%. Instant Purchase works with all payment solutions that use Braintree Vault, including Braintree Credit Card, Braintree PayPal, and PayPal Payflow Pro.
2. Integrated dotmailer marketing automation software. The Magento platform is one of the first eCommerce solutions to include the dotmailer marketing automation with their core product.
The Magento Commerce 2.2.2 release integrates dotmailer email marketing automation, allowing merchants to easily set up and start creating campaigns in minutes. Dotmailer enables customers to deliver smarter, faster email campaigns that maximize ROI through advanced segmentation and personalization capabilities. They use all Magento attributes to create a complete view of the customer for highly targeted campaigns.
Moreover, dotmailer supports automated campaigns through SMS, Push, email and various other channels, and it can manage transactional emails for Magento stores. Additionally, it offers an incredibly flexible toolset that makes implementing advanced marketing techniques easy for the administrator. It's always been a pain to integrate marketing tools into an existing Magento store, but now it's all integrated into the core.
3. Advanced Reporting powered by Magento Business Intelligence. Access easy-to-use order, product, and customer reports right from the Magento Admin to gain new insights and enable data-driven decision making.
This feature helps merchants operate with greater efficiency and intelligence. The new Advanced Reporting provides merchants with 20 reports delivered through an easy-to-use web interface in the Magento Admin. This interface offers critical business insights through three pre-configured dashboards:
● Orders: number of orders, revenue, AOV, taxes and shipping fees collected
● Customers: registered accounts, unique customers, key metrics by customer
● Products: quantity ordered and bestselling products by revenue and volume
The data is updated daily and you can configure the reports so that they show you different date ranges. It supports multi-store, and merchants can filter reports by individual store view. With reports expressly designed for business users, featuring vital metrics and great visualization, Magento customers now have the power to manage their businesses better.
4. Magento Shipping. Integrated multi-carrier shipping and fulfillment capabilities can help increase profitability and maje operations easier.
The latest Magento Commerce version also boosts efficiency by integrating Magento Shipping's multi-carrier shipping and fulfillment capabilities. Rather than using multiple extensions, merchants can now fully manage shipping tasks by configuring shipping options right from the Magento Admin. The Starter Magento shipping package starts at $99 per month, but it has a 30-day free trial period. There have also been a lot of fixes in the last version, both from the Magento team and the community (96 community-submitted bug fixes.). These fixes are related to parts such as:
● Installation, setup, and deployment
● New functionality for the command-line interface
● Cart and checkout
● Support for the Indian Rupee (INR) to PayPal Express Checkout.
● Configurable products
● Cron/Indexing
That being said, if you weren't convinced on using the Magento platform for your online business, the Magento Commerce 2.2.2 release should help you towards making your decision. Magento provides all the tools a client may need in order to manage their store, while significantly improving customer experience at the same time.
The Magento Certified Developers at ElectricBot are always up-to-date with the newest Magento solutions. Contact us if you need any help with developing and updating your Magento store. We can help you ensure it functions flawlessly and it sees an increase in conversion.