Shopify vs Magento: Which One is the Ultimate Ecommerce Platform?
If you have zero experience on ecommerce platforms, and are contemplating whether you should go with Shopify or Magento as your go-to ecommerce platform, worry not! In this article, we'll be comparing the two major platforms, list out their advantages and disadvantages, so that you can decide on which one is better suited for you, even if you're completely new to ecommerce platforms. Selecting the right one is essential, and it can be a deciding factor on whether your business succeeds or fails. This is especially important for small businesses, as they have tight budgets and resources available to them.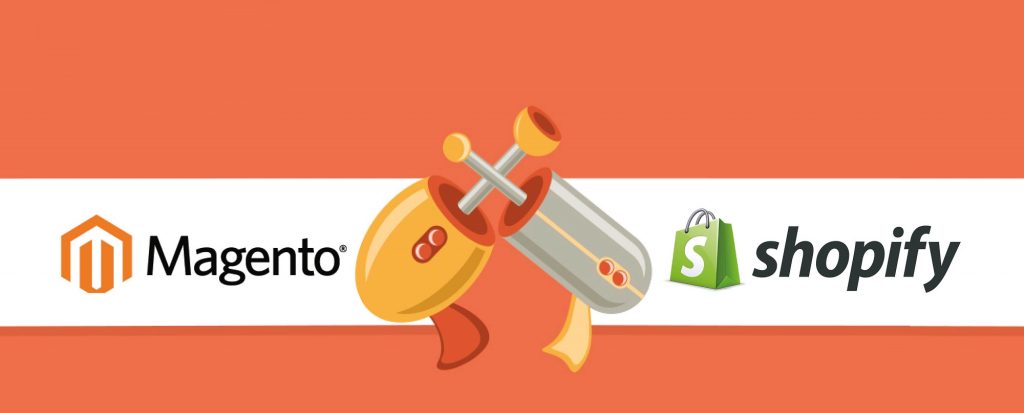 Magento eCommerce is one of the best choices for your online store.
That being said, let's compare Shopify vs Magento, based on their features, cost and ease of use. However, before we get to that, worth knowing is that there are two fundamental differences between the two. First and foremost, the Magento ecommerce platform is a free, open-source software, while Shopify is a commercial product that you'll have to pay for. Next, Magento ecommerce requires that you provide your own setup, installation, hosting and configurations before you can start working on your store (all of this requires a fair amount of programming and web development skills), while Shopify is a hosted solution.
Now that we've gotten that out of the way, let's discuss the differences between Shopify vs Magento in terms of cost, ease of use and features.
Initial and Recurring Costs of Shopify vs Magento
Even though it's a free software available to anyone, there are still costs of running a Magento ecommerce platform website. You'll have to pay for your own hosting, which can range anywhere from $5 to $100s of dollars a month. However, there aren't any transaction fees other than the gateway provider fees that can vary.
On the other hand, Shopify has no setup fees, but you'll have to pay a monthly fee that ranges from $14 to $299 depending on the type of plan you get. There are 4 plans:
Lite – $9
Basic Shopify: $29
Shopify: $79
Advanced Shopify: $299
If you're using their payment gateway, you won't have transaction fees, but if you use another gateway or method, you'll pay 2% on the Lite and Basic plan, 1% on their Shopify plan, and 0.5% fees on their Advanced Shopify plan.
Ease of Use
As briefly aforementioned, Shopify and Magento are both very powerful store building platforms. They both come with a well-designed and user-friendly interface that's fairly easy to navigate through. However, Shopify also features wizard mode that allows even completely new users to set up store easily, while Magento doesn't have this feature. Moreover, since Magento isn't hosted, you might have problems setting it up by yourself, and even typical end-user won't have a convenient and easy time doing on their own.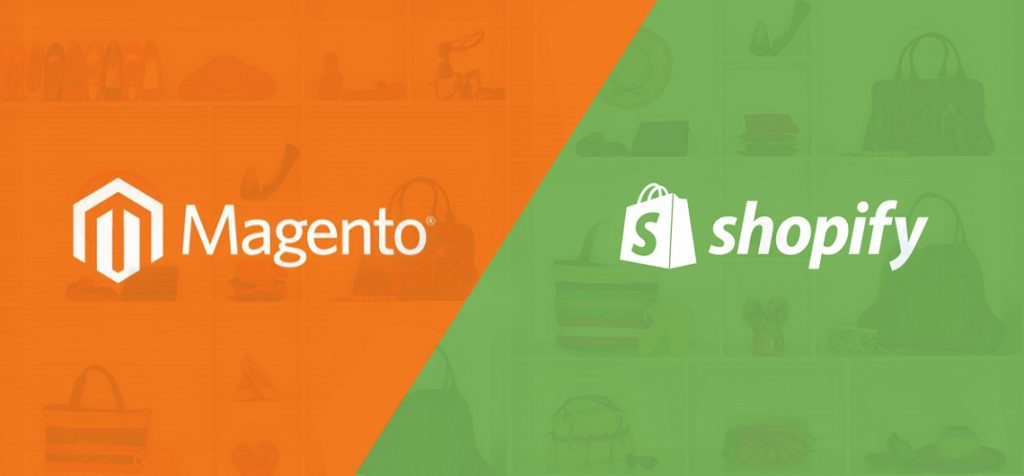 When it comes to shopify vs magento features you'll have to think about what's important to you.
Shopify vs Magento: Features comparison
Lastly, we've come to the features. Both platforms offer a plethora of them, so you'll have to think about what's important to you.
Basic Store Functionality – both platforms offer basic store functionalities that are very powerful to use and maintain on a continuous basis. Shopify is arguably easier to setup and use in comparison to Magento. However, Magento is far more customizable, but it requires a team of developers to set up. The opportunities Magento offers are unlimited, as long as you have someone who is capable of utilizing it to its full capacity.
Inventory Management – Magento offers an unlimited amount of items while the Shopify starter plan (14$/month) restricts you to 25. However, other Shopify plans allow for an unlimited amount of items to be sold through your store. Worth knowing is that Shopify also features Oberlo as an embedded application for new users. Another thing worth noting is that while you can have an unlimited amount of products on Magento, your server performance and site loading speed might become problematic if you stack too many products on your Magento store. This isn't something you have to worry about when using Shopify.
Calculating Shipping Costs – both platforms are flexible and offer powerful solutions for calculating shipping costs, which is arguably one of the most essential and basic aspects of selling physical goods through an ecommerce store.
SEO Capabilities – again, both platforms offer extensive SEO capabilities which help you drive more traffic to your store organically through search engines. Both feature powerful SEO features and benefits, and there's no clear winner in this regard.
Conclusion
Overall, both platforms are great e-commerce platforms, but the team at Electricbot gives the Magento platform an edge over Shopify, simply because we have a team of Magento CMS professionals who have extensive knowledge of the platform and can get the most out of it.
If you're in need of digital marketing services, Electricbot is one of the best marketing companies that specializes in digital advertising, ecommerce development, ecommerce marketing, local digital marketing and more. We have a team of highly experienced SEO and SEM specialists, Magento and Shopify developers and graphic designers who can tend to your digital marketing needs and help you get visibility and reach more people.