"Oyster Flavored Food Festival" – the best design festival, the OFFF 2018.
OFFF Barcelona, let's feed the future.
Every year, in spring, Barcelona becomes mecca for thousands of graphic designers and all kinds of artists. During that time, there are presentations on the latest graphic designer trends, and the city is filled with positive energy, providing graphic designers with an amazing opportunity to draw inspiration from everything that's happening around them.
This year, there were many huge names from the designer industry present as well. Stefan Sagmeister, Malika Favre and Pentagram were there, among others, and they held incredible presentations which truly inspired me. However, even some less known presenters had amazing presentations as well. Overall, a truly breathtaking experience if you're a graphic designer.

In this post, I'll summarize the experiences from Malika Favre, Luke Hayman and Pentagram and Stefan Sagmeister's presentations.
Speakers
Malika Favre
Words can't describe how great Malika Favre's presentation was. She's actually so good it's unreal. An amazing illustrator who comes from France, and has a ton of experience. She currently works for The New Yorker, Sephora and many other big-name brands from all around the world.
She's easily recognizable for her minimalistic style, not just by designers, but from people of all backgrounds as well. She combines the minimalistic style with bold colors and female silhouettes perfectly.
Malika spoke about her road to where she's currently at, and explained that sometimes it's better to reject some clients, simply because they don't make you happy. And if you're not happy, you're not in the right mindset, and that can destroy your creativity, and what's a graphic designer without his creativity?
Luke Hayman and Pentagram
The partner of the prestige American studio Pentagram was at this year's OFFF Barcelona as well.
If you are a designer, you've probably heard about Pentagram, and seen their work somewhere around you, no matter where you are. The new Mastercard logo and branding, City Bank, United Airlines, Harrods, M&S, Pirelli, Tiffany and Co.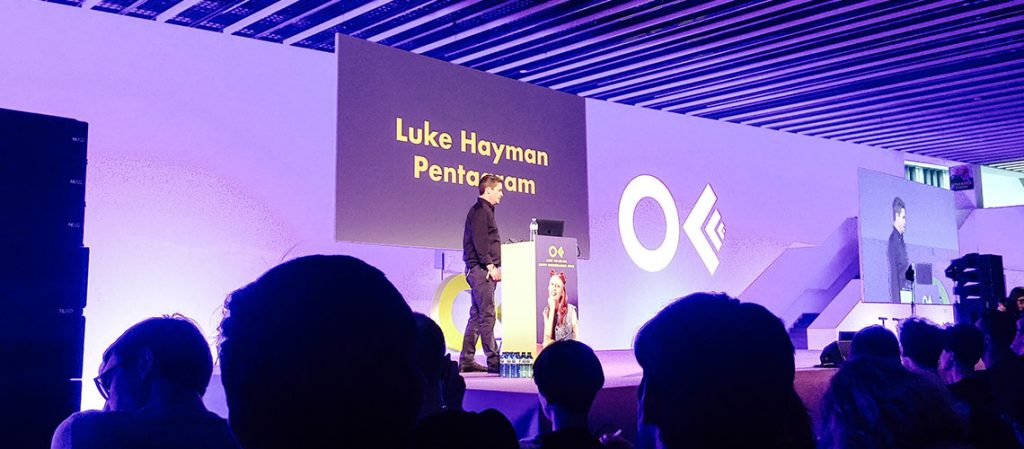 and many, many other famous brands rely on Pentagram, and their creative graphic designers. Simply put, they're huge. They have offices all over the world, and I think I speak for every graphic designer out there when I say working for them would be a dream come true.
So Luke is one of the partners of Pentagram, and he presented their most recent work from the studio. I have to say, it's one of the most beautiful pieces of work I've seen. It's made for Archtober, and you can find it here. It's a studio for architecture in the New York area, and they keep it interesting year after year. If you're an architect who wants to know about all the different exhibitions and events that happen every day in New York – this should be your go-to place to find out.
They did the entire branding for Archtober – from logo to website and all different kinds of promotional materials. But the biggest thing is the calendar. They managed to make a calendar presenting what's happening every day of the year in the world of New York architecture, and they did it in the most brilliant way. Here are a few images so you can check it out yourself.
Stefan Sagmeister
The king of graphic design business, the man himself – Stefan Sagmeister was absolutely brilliant. He was the closing speaker, and God, oh God he was the cherry on top of the cake. His work is so inspiring and brilliant there are no words to describe it, you just have to see for yourself. He and his New York studio Sagmeister and Walsh have done some of the most iconic projects of all time, in my opinion.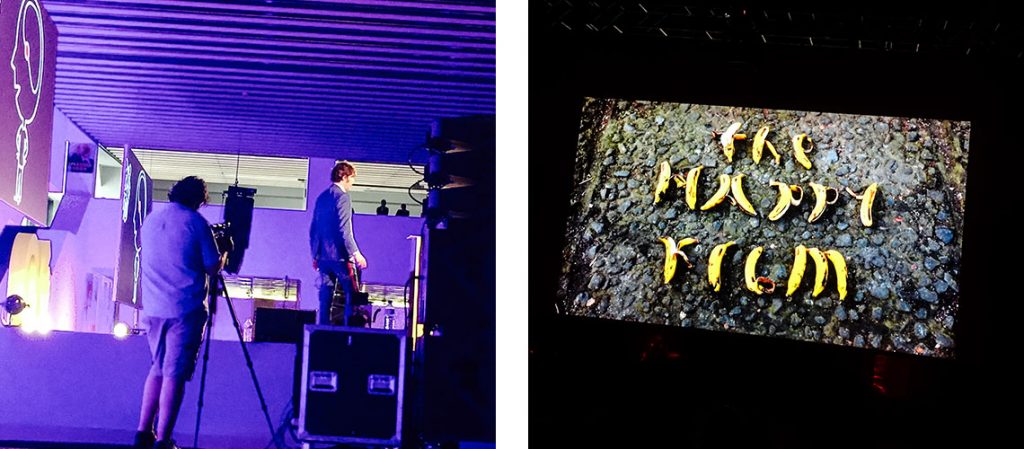 But this year he was there to present his documentary movie The Happy Film, and if you haven't seen it yet, you should, it's an absolute MUST. It will make you laugh, cry and at the end you'll be asking yourself: "How can I truly be happy?" It was definitely very touchy, emotional and amazing at the same time.
He made us all feel a bit happier while presenting the project, and even gave us a recipe of his own at the end. A recipe on how to be happier. And he made us all sing all together, which trust me – it did make us all happier.
Adobe
Adobe, as one of the big sponsors for the OFFF Barcelona 2018 was present there as well. In addition to the usual giveaways, all the latest features of Adobe's UX and prototyping tool Adobe XD could be thoroughly tested, and they can now be used free of charge.
They had a lot of different courses for different products all free of charge, but Adobe XD was the one that took everyone's attention. It was truly great.
ElectricBot had the pleasure of sending one of our graphic designers there, and she can't stress how inspiring and amazing the entire experience was. She learned so much, and she's ready to translate the experience into practice. That being said, check out the new, innovative web design services we offer.